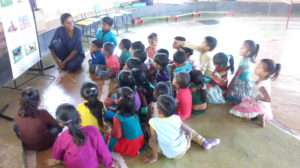 Young children below 5 years of age learn a lot through their own free and playful activities. It is said that these children develop a lot of skills through independent self-learning, love of play, obersvation and imitation, and the freedom to make mistakes. Children also learn from active dialogue with their parents. Unfortunately, youngsters in rural areas do not get enough stimulation, especially in poor homes. Here we see ARCH's role: through a pre-primary play group we give a variety of exposure to young children that we hope sets a foundation for a lifetime of learning.
ARCH Balvadi caters to about 70 children of pre-school age. For them we have a toy library, playground, as well as pre-math and pre-language activities. In Balwadi children listen to stories through acting and puppet skits, sing songs, and play freely. Motor skills are enhanced through art activities and games. Then, as they approach age 5, Balwadi children try pre-math and pre-language activities such as number and letter matching games, indentifying shapes and colors, etc. Our alternative teaching methods are drawn from a variety of other NGO work and based on child-development research.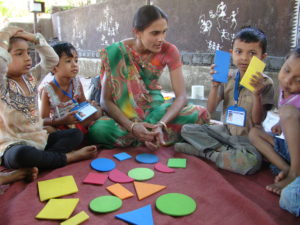 At the first annual activity and sports day (held in April 2010), parents were thrilled to see their little ones performing various fun and educational activities with confidence and enjoying themselves. Also, three field trips were arranged for Balvadi children: they went to the play garden in Valsad, the children's park at the District Science Center in Dharampur, and boating at a nearby river.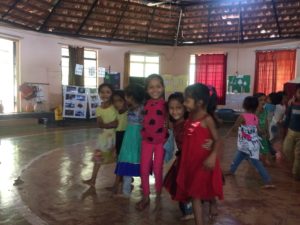 In collaboration with Raxa Trust, we have developed playground equipment for Balvadi children on our campus, including two big slides, a hanging bridge, a pipe hut, a sand pit with rope-games, rope jungle gym, and a swing set constructed from old tyres and drums.