In recent years, with arrival of Drs Dineshbhai and Shailben Vasa the dental health programme at ARCH Dharampur has become prominent feature of health services. Dental health services are provided in two forms. Clinic based care and mobile van service to remote villages and schools.
The dental health clinic at Dharampur is fully equipped unit with two chairs, digital X-Ray facility and all equipments. Two full time and one part time dentist provide dental filling, crown fitting, root canal treatment, bridge making, denture fitting and extraction services. Drawing patients from around 80 village spread over area of 60 km; annually 2,400 patients are treated at the fix unit in Dharampur. Daily attendance of 12-15 patients keeps the clinic busy 6 days a week.
The dental mobile van, first of its kind in Gujarat has become a flagship programme to promote ARCH's name in remote villages. The air-conditioned van is equipped with a flexible but sturdy mobile dental chair, equipment trolleys, suction machine, a power generator where by a dentist is able to perform full dental care in remotest places. Recently added digital X-Ray machine is aiding diagnosis and complex treatment like root canal while in remote villages.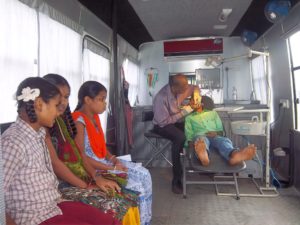 Through twice a week visit by mobile van to remote places and schools, about 4,000 patients (half of which are school children) have been provided treatment nearer their home.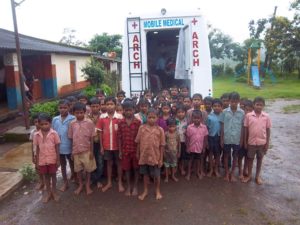 The acceptance and demand for dental treatment and oral hygiene is increasing for the past three years. To capitalise on this prominence we are including dental care and awareness teaching. Sets of posters, leaflets and video have been prepared to support awareness training by Village health workers and school children. In a recent health survey it was found that increasing numbers of people are adopting "brushing" (against traditional stick) as a mean for cleaning their teeth. School children are adapting to brushing faster than the adult.
We are increasingly facing the challenges of deteriorating dental and oral health because of habits of chewing (pan, tobacco and harmful substances) and increased consumption of sugary drinks and food.